(aka some scribblings about Acid Mothers Temple)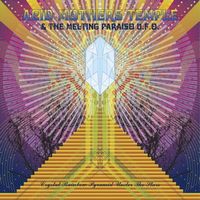 A
CID MOTHERS TEMPLE & THE MELTING PARAISO UFO
C
RYSTAL RAINBOW PRYAMID UNDER THE STARS
Another day, another AMT album, another clichéd review beginning with a reference to their superhuman productivity (that was it, in case you missed it). The band's legions of followers will be tickled not just pink, but all the colours of the rainbow and some others that don't exist to hear that this is their finest release for some time, perhaps since
Electric Heavyland
. It's AMT at their long-form best over three wild-eyed and exceptionally bushy tailed tracks. They're in full-on psych-meltdown mode on 'Pussy Head Man from Outer Space', a 200-mph riff-fest based around Tsuyama Atsushi's liquid bass and Kawabata Makoto's psychotic soloing. The title track begins innocuously enough with a sedate pace and tasteful soloing, but then everything collapses in a heap and 15 minutes' intense krautrock action begins. Even better, 'Electric Psilocybin Flashback' ups the ante with a mind-boggling bouzouki riff and relentless percussive drive, sounding like traditional Japanese folk played by a thrash band. And that's almost exactly what is – as well as one of the best tunes in AMT's now-colossal back catalogue.
A
CID MOTHERS TEMPLE & THE MELTING PARAISO UFO
MYTH OF THE LOVE ELECTRIQUE
Japan's favourite workaholic intergalactic psychognomic minstrels are back! Not that they ever went away… Unlike their recent run of single-concept albums, such as the
IAO Chant
Gong homage or the fearsome
Starless and Bible Black Sabbath
,
Myth of the Love Electrique
is a varied collection in the vein of their debut or
New Geocentric World
. All facets of AMT's personality are expressed here, from supercharged guitar freakouts and proto-blues metal to space-faring drones, monkish chanting and medieval troubadour strolls through purple-speckled toadstool towns. New vocalist Kitagawa Hao's wondrous wails more than amply supply the cosmic sweetness that was once the reserve of Cotton Casino, and re-inject some much-needed femininity into the AMT sound. At the album's heart is a new recording of live favourite 'Pink Lady Lemonade', the third and possibly best studio version thus far. Another superb album from the superhumanly consistent collective and a great starting point for those not yet converted, but possibly a bit of a retread for the faithful.
ACID MOTHERS TEMPLE – Mono, Glasgow, 14/11/06
Taking valuable time out from a fat-packed schedule that sees them releasing on average nine shockingly good albums an hour, Japan's premier intergalactic beardshow touches down in Glasgow. Following recent excursions as the Cosmic Inferno, as SWR, and as the Soul Collective, Kawabata Makoto and his fuzzy brothers are once again travelling as Acid Mothers Temple and the Melting Paraiso UFO. However, it must be said that the major difference between these bands largely comes down to how much room their names take up on a T-shirt.
Given AMT's cosmic leanings, it's surprising that they don't begin with a Big Bang, but rather ease themselves into a drowsy, bluesy groove. But it isn't long before the band's kraut-flavoured freakout blows in like Hurricane Hawkwind until wilful '70s stoner throwback 'Dark Star Blues' establishes a colossally heavy metallic chug. While the rest of the band kiss the sky with gusto, it's Kawabata himself who is the centre of attention. He's a truly monstrous guitarist, whose furious, intuitive and hugely physical playing can't help but draw comparisons with Hendrix.
A hilarious, syncopated Occitanian-style chanting interlude sees bass-demon Tsuyama showcasing his throat-singing skills, but it doesn't explain why tonight he has chosen to model his look on Compo from Last of the Summer Wine. Following a brief burst of herky-jerky Beefhartian insanity, Kawabata gently picks the heartbreakingly gorgeous opening guitar line of 'Pink Lady Lemonade', and Mono lets out a collective 'aaaahhhhh'. It's a strange and gratifying thing to hear an hour-long lysergic jam greeted as if it's a number-one hit single, especially one whose beat is in a geological time signature. The delicate central phrase cycles repeatedly, constantly deferring the inevitable moment when the poignant, overdriven lead will break through. Twice during its extended lifetime, the Pink Lady literally fizzes away in intoxicating bubbles of dreamy fuzz, only to rise again, with far more vitality than before, opening rifts in space and doors of perception.
There's a relatively brief encore of 'La Novia', the closest this band get to a singalong anthem, before it all ascends into blissful cloud-borne chaos, culminating in Kawabata's guitar hanging by its strings from the lights as it attempts to achieve escape velocity. There are certain bands that everyone should see at least once during their lifetime, but with AMT that's just not nearly enough. Try once per album in their catalogue. That should do it.
(all three originally published in Rock-a-Rolla)